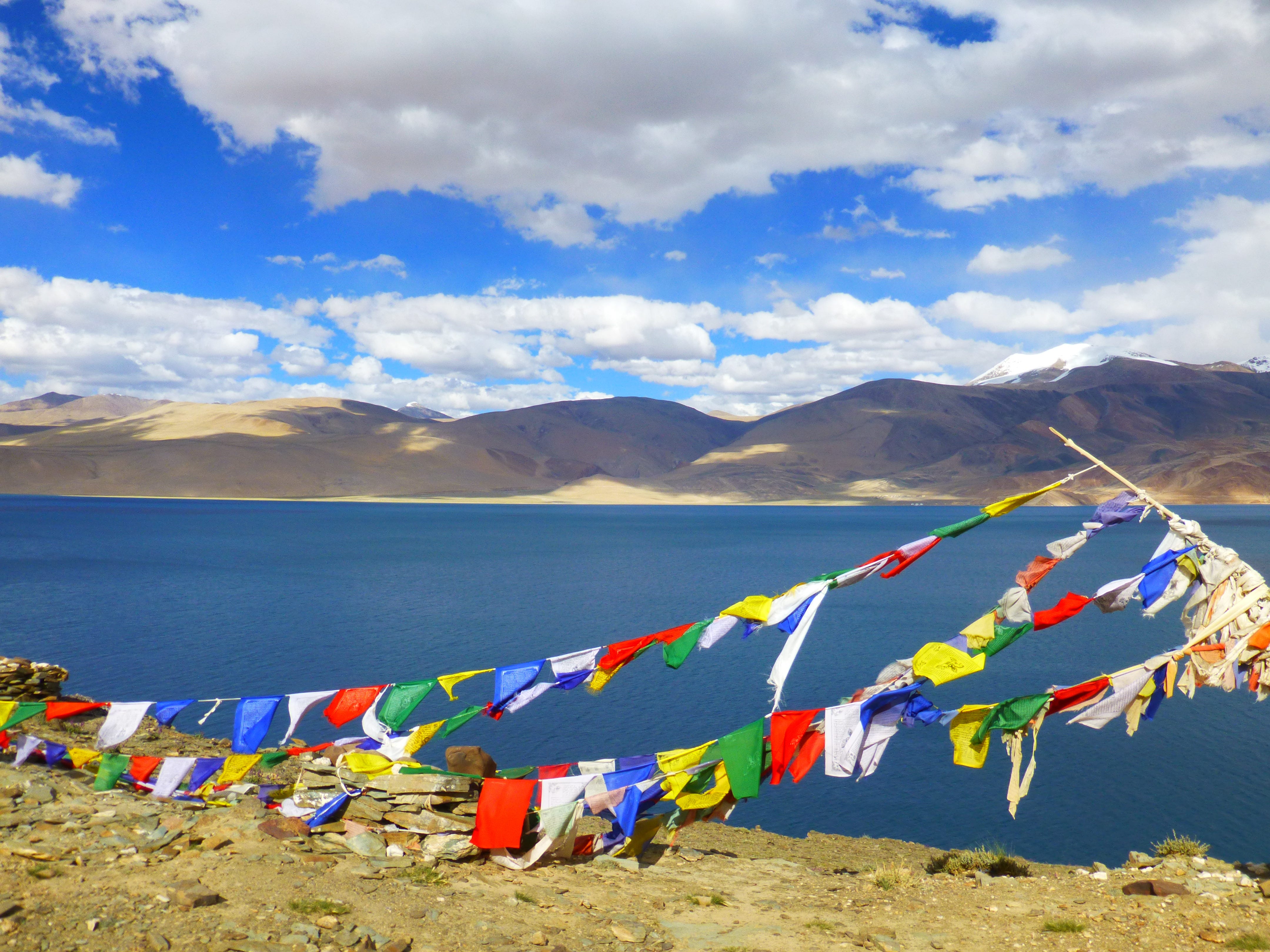 Julley!
We are a small aid project with a big heart for the people of Ladakh. Above all "our" nomad children! We have been working tirelessly on various projects since 2010 - a lot has happened accordingly.

Since 2022 we are happy to cooperate with the Achi Association India and
LEBENSZEICHEN//SIGN OF LIFE! – Society for Threatened Peoples Austria (GFBVÖ) So we can deepen our project with the nomad school and the nomads in Changtang.

So, no matter if small or large:
We are very happy if you want to support us
After experiencing the catastrophic flood disaster in Ladakh in 2010, Ulli Felber and Gulzar Hussain decided to launch "Support Ladakh" (in german: "Hilfe für Ladakh") - a fundraising project to support Ladakhi families which were heavily affected by the flood. In the meantime the project has grown year by year: We still support some of the affected families and especially their children's education. In the last years our main focus shifted to support the nomad school of Changtan, near the Tibetan border.

With the donations and the help of volunteers
we have been able to do the following:
- Supply of over 300 families with cement (2010/2011 after the tsunami)
- Financial support for five severely affected families and their children
(since 2010 - until today)
- Funding for the school in Phey, the Zanskar Residential Solar Hostel
and the Efterskole in Phyang (2016)
- Supply the nomad school in Changtang with school materials and workshops, establishment of an emergency fund and a craft center with attached library (since 2011 until today)
- Support for sponsored children (since 2014 until today)
Gulzar Hussain
Founder of Support Ladakh and Frozen Himalayas, Naturalist
born in Leh / Ladakh.

Gulzar Hussain has an incredible knowledge and passion for the wildlife, history and culture of his homeland Ladakh. With a bachelor's degree in science and an MBA in tourism, he specialized in sustainable tourism planning and policy. As a naturalist and guide, Gulzar loves sharing his passion for the remote, remarkable, and delicate ecosystem of the Himalayas with fellow adventurers. Gulzar Hussain was awarded as one of the "50 people you must know in the Himalayas" in Condé Nast Traveler. In 2010 Gulzar and Ulli founded "Support Ladakh" and since then he has been responsible for the implementation of our projects on site. As a leading founder of the Nomadic Center for Arts and Crafts in Puga Changtang Gulzar also continuously supervises all projects and workshops at the nomad school. He has a great sensitivity for his culture and people and knows the balancing act between innovations, both large and small, but also the preservation of living and peculiarities of the Himalayan lifestyle.
Ulli Felber
Founder of Support Ladakh, Copywriter, Trainer & Author
born in Graz / Austria.

Ulli started to be interested in Tibetan Buddhism at a very early age, so it was not surprising that she was drawn to the Himalayas on her first trip of several months. Once her feet touched the ground of Ladakh, she fell head over heels in love with the country and its people. Ulli runs "Support Ladakh" from Austria and takes care of fund-raising here. Not an easy task as a "one women show". But whoever heard Ulli talk about her heart project and her wonderful experiences, knows with what joy she runs the project! >>> By the way: If you are interested, you can also book her for a photography presentation of our work, her travelles and experiences! Also you can flick through her book "Happiness and Ladakh" in which she portrayed the most diverse people from Ladakh in words and pictures. A precious little treasure that represents the great wisdom Himalayan people carry within.
Of course, Ulli is also on site as often as possible, visits the supported families and, together with Imran and Gulzar, leads workshops for the nomad children with great pleasure!
Imran Mohd
Founder of Frozen Himalayas
Wildlife & Adventure Filmmaker
born in Leh / Ladakh.

Imran lives, breathes and dreams of the Himalayas - and it is probably precisely this passion for his home that makes Imran an exceptional wildlife filmmaker and photographer. He specializes in filming rarely documented animal species from the region, such as the elusive snow leaoprd, Eurasian lynx, the Pallas cat, the Himalayan and brown bear - and has a unique photo repertoire here. Imran's concern is to help the locals in a sustainable way to enrich Ladakh's fragile ecosystem without disrupting the social fabric.
Imran has been Part of the "Support Ladakh" team since 2011, He takes care of the donation management with absolute reliability and accuracy, on the one hand, Imran also takes on many of the practical workshops in the nomad school teaching basic concept of photography to the young kids. He wants to inspire the young generation to get to know and love their environment exactly, so that one day they stand up for it - as a mindful conservationist, wildlife filmmaker, photographer, nature guide or maybe even as a real natural scientist.
By chance we were taken to the nomad school in school and in school, far away from their families. The resources in the 4500 m high nomadic area are scarce. The difference between children's meals consists mostly of rice and lentils. In the school, where there are no sanitary facilities, the children are led into the river in which they are available. The subject matter is kept simple, especially since neither teaching staff nor working materials are available.

With little less, we can relate to loved ones year after year a great joy: In addition to the treatment with teaching material, toys and sports equipment as well as an annual ration of hygiene items, which we supervise more every summer with the administration of affordable helpers. Drawing, photography and personal care. In 2014 we also have an emergency fund for the disabled supervision of the child administration. In the first two years, the focus was on the establishment of the literary and craft center "Nomadisc Lifein the Western Himalayas", which we have been doing since summer 2018.
In August 2018, after the completion of the construction work, we were able to start our long-awaited literary and craft project "Nomadism in the Western Himalayas". In the center, two nomadic women teach the schoolchildren in traditional handicrafts - on the one hand they make a valuable contribution to the preservation of this dwindling cultural heritage, and on the other hand the children receive an additional qualification to teach at school. An important element here will also be the production of carpets and pashmina scarves, the sale of which will enable the school to later earn pocket money that will benefit the children. The library, on the other hand, serves teachers for academic development and students to get to know their own culture deeply, which they will recognize and appreciate there, in order to maintain it in the future with targeted steps. We need donations every year to supply the center with material and to cover the nomad's salary!
General:
- Support our 4 sponsored children
- Support for needy families and their school children

Nomad school:
- School supplies & annual hygiene items
- Material for the literature and craft center
➢ Total donation required: approx. € 2,000
Payment of nomad salaries as external teachers
➢ Total donation required: approx. € 4,000

Help us help!
General:
- Support our 4 sponsored children
- Support for needy families and their school children

Nomad school:
- School supplies & annual hygiene items
- Material for the literature and craft center
➢ Total donation required: approx. € 2,000
Payment of nomad salaries as external teachers
➢ Total donation required: approx. € 4,000

Help us help!